Tuareg Jewellery

In the extreme south, trade crafts were the domain of an exclusive and very tightly-knit social class: The Inaden, a legendary people, omnipresent in mythology and popular imagery. A great deal of interest has been devoted to these people, who have been for a long time guardians of tradition.
In these far away lands in the heart of the Sahara desert, the key personalities of the Tuareg society have always been the craftspeople, for it is these very craftspeople who produced arms for warriors, tools for agriculture and jewellery for adornment. The craftspeople of the Tuareg willingly adopt these different various roles with marvellous ease. The are at once arms producers, blacksmiths, jewellery makers, sculptors, warriors and even poets.
Moulding and hammering are the most are the most commonly used techniques in the creating of jewellery. The embellishment is worked using the engraving tool and the die, and in combination of other hand-tools, these are skillfully handled to produce the engraved and embossed geometric forms, such as circles, lines and triangles, which adorn and illustrate most of the Hoggar Jewellery. (Hoggar is the most famous and rich mountains in the heart of the Algerian Sahara, which also represents a symbol of the extreme south of Algeria).
These creations are often fused with natural elements, such as shells, stones or animal teeth, in parallel with prehistoric creations of a similar nature and faithfully guarding their magical implications. The Tuareg have a penchant for a pectoral pendants, rings and earrings. Tuaregs also use a lot of silver (note that all jewellery on my website are made out of Silver, UNO).
Reference: Some parts of the above text was inspired from "Algerian Handicrafts" By ANEP publishers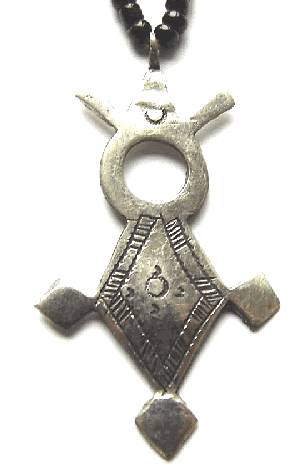 Tuareg Southern Cross
Tuareg Cross: The Tuareg people are the original Canaanites from the Bible. The meaning of Canaan
is `land of the purple people.` This unusual moniker is in reference to the bluish-purple vegetable dye the Tuareg use to colour their clothing that subsequently rubs off onto their skin. The Tuareg are renown for their metal and leather workings. The markings and geometrical design of Tuareg crosses and Tuareg jewellery in general translates into protective symbolism. "God is the centre of the universe, we are one with God" and "no matter where you go God and I shall always be with you and protect you" are common Saharan interpretations. Those of the Muslim faith believe that the arms of the cross will disperse all evil from the individual. Thusly keeping him out of harms way. Tuareg parents are known to give these exquisite crosses and glass beaded necklaces to their children when they are about to depart from home but they are worn by all as a form of good luck and protection. These well crafted crosses are 60% silver and 40% nickel. A necklace is included with every cross.
+ There are 22 crosses of tuareg, each one of them designate a tribe within Niger. That is how they know who came from where.




Ce film relate la formation des artisans Touareg de la cooperative "Art Kem Niger" à Niamey avec un artisan joaillier Francais. L`objectif de cette mission est de former la coopérative à de nouvelles techniques dans le respect des techniques traditionnelle de fabrication. Le but est de créer la première marque d`accessoire de mode haut de gamme sur l`Afrique de l`Ouest. Ce commerce est basé sur la transparence, le dialogue et le respect.
Musique: Bliss
www.ikken.fr