Moh Alileche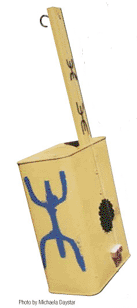 Many Kabyle singers (Amazigh, also known as Berber from the North of Algeria) express their views and feelings related to several aspects in the North African society. With the soothing melodies we can listen to cultural songs, love songs, political songs, educational songs, and so on.
Moh Alileche is one of the brilliant singers yet known particularly in Algeria, France, USA, Canada and Australia, was born and raised in the Mountains of the Kabylia region of Algeria. From his village, at the age of 9, he taught himself to play traditional Amazigh music on a hand-made-single-stringed instrument (see photo), usually re-using empty oil tins with a hint of creativity, heaps of enthusiasm and a dream to become one day a very known singer. From that, it evolved to a guitar and later to the North African 10-silkstringed mandol or "agember" in Tamazight language (See Moh on stage playing agember at the First Amazigh festival in Australia organized by Amazigh Association of Australia).
His talent on "agember" grew, soon he became known in his region for his skills as a musician, singer and songwriter, resulting in his very first radio (channel 2) interview in 1980 with hosts Medjahed Mouhoub and Mohamed Rachid in the capital city of Algiers.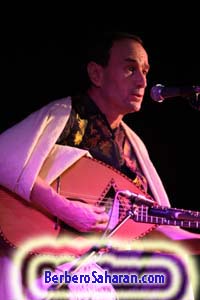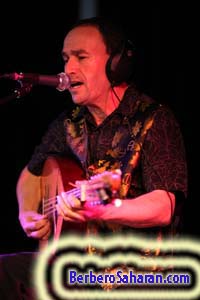 Algeria was long known for its brains' exiling towards many different big nations in the world such as France, USA, Canada and UK fleeing political, cultural and economical pressures and seeking better lives and opportunities abroad. Moh has moved to the USA in 1990, since then he captivated a large American audience with his authentic style. He has participated in a variety of events, including San Diego State International Festival UC Berkeley International Spring Festival, and San Francisco World Music Festival. After the release of the first CD, Tragedy in 2000, several Northern California radio stations have interviewed Moh, including KPFA 94.1 in Berkeley and KALW 91.7 in San Francisco. In 2001, some of his music was incorporated in a movie documentary entitled "The Visionary". His 3rd Cd "North Africa`s Destiny?" was selected best 2005 world music album/ category "Africa", by the Indie Acoustic Project (IAP).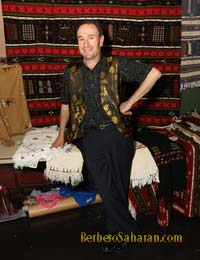 Moh has crossed the world in spreading his wings to respond positively to the invitation of the Amazigh Association of Australia to participate in their very first Amazigh festival in Australia that took part on the 16 May 2009 in Sydney. While in Sydney Moh was interviewed by Sydney radio station SBS-French and SBS-Arabic, he was also interviewed by berberosaharan.com who was one of the major sponsors of the festival.
As he moves on to new projects, Moh wishes to continue promoting the music and culture of his Amazigh ancestors of North Africa, bringing their joys and struggles to consciousness of even broader international audiences.

Buy Moh's Albums:
Moh Alileche on Stage
See Moh Alileche on Stage at the First Amazigh festival in Sydney
Please leave your comments below